What will you learn from this master class?
Amazon Athena is an interactive query service that makes it easy to analyze data in Amazon S3 using standard SQL. Athena is serverless, so there is no infrastructure to manage, and you pay only for the queries that you run.Athena is easy to use. Simply point to your data in Amazon S3, define the schema, and start querying using standard SQL. Most results are delivered within seconds.

Key Takeaways:-

#Introduction to Amazon Athena

#Querying data from S3 based DataLake

#Interactive Analysis

#Mc4u Certification

Our Integrated Approach To Open Learning, Elevated Branding and Hiring
Need A career upgrade?
•A competent leader offering 13 years of rich & comprehensive experience in all aspects of Teaching, Training, General Administration, and other related functions in leading educational institutions as well as the cloud computing domain. • Currently Serving as Application Development Team Lead at Pune Location • Worked AWS Technical Trainer on various concepts like Solutions Architect, Developer Associate, SysOps Administrator, and many other • Managed various Enterprise Level Architecture Designs & Migrations on AWS Platform as Consulting Solutions Architect.. •Sound experience in developing, customizing, and delivering innovative & engaging teaching programs on varied subjects such as: o Operating System, Cloud Computing, ERP o Python, C & C++, Data Structure o Software Engineering, Software Project Management & many more •Expertise in the development of a shared vision that foster a Professional Learning Community cantered around the achievement of all students, allow for a common focus, and put a process in place to assess the Institution's needs, determine areas of focus, and align resources to drive student achievement •Strong relationship management & communication skills to maintain excellent relations with state-run academic governing bodies for availing sanctions & approvals for the successful delivery of academic programs •Possess effective technology leadership in the areas of instruction and curriculum that results in improved teaching and learning •Directing and guiding Institution Leaders through challenging academic environments that are cantered around academic excellence, closing the achievement gap, and technology integration •Explored the AWS Cloud Domain to enhance new Era of Technology with its international Certification on AWS Cloud Practitioner and Cloud Solution Architect-Associate
Benefits Of Joining Our Events and Sessions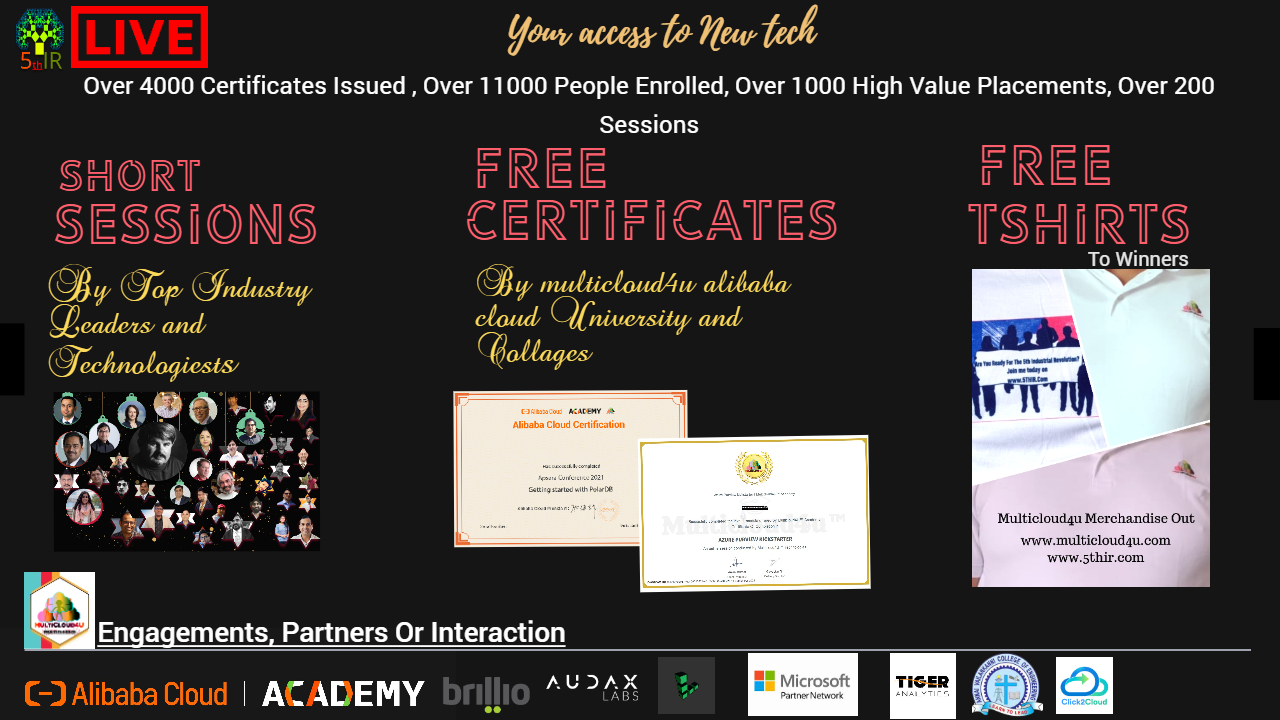 ;
Upcoming Events
Sunday, 17 July 2022
09:00 PM IST | 10:30 AM EST | 03:30 PM GMT
Over 10 Enrolled to hear :Joydip for Azure Data Engineering
By : :Joydip
Enrolled By : 10 People
Sunday, 03 July 2022
09:00 PM IST | 10:30 AM EST | 03:30 PM GMT
Over 40 Enrolled to hear Abhinav for Introduction to Field parameters in Power BI
By : Abhinav
Enrolled By : 40 People