What will you learn from this master class?
Resources and Takeaways
1. Two Free Certificates.
Level1 from Multicloud4u and Level2 After Quiz from Alibaba Cloud Academy
Level 1 Participation certificate from multicloud4u.
Use the HAT icon in green below the video panel.
Level 2 Completion Certificate after attending the 15 question exam by Alibaba Cloud Academy.
Use the quiz icon in green below the video panel to navigate to Alibaba cloud academy and attend the 15 question quiz to get the certificate and the credit directly from Alibaba Cloud.
2. one Slide deck
Click the file icon in green below the video panel to download the latest slides.
3. One Extra Video
Click the Video icon in green for one extra video about Terraform cloud.
4. One Multicloud Instruction for Terraform
Click the code icon in green to download the step by step instructions, this contains screenshots of multi-cloud scenarios.
This short course covers the following
1. Introduction to DevOps
2. Introduction to Infrastructure as Code(IaC)
3. Terraform and Terraform Cloud
4. GitHub and its advantages
5. Steps for Creating VPC in Alibaba Cloud Using Terraform Cloud
6. Demo
Prerequisite::-
1. How to Create a Free Vm and Account on Alibaba Cloud
https://www.5thir.com/dynaevent.aspx?eid=a90fcdd75b8a4a6397b6fa774caee8freevm#start
2. How to create Virtual Private Cloud in Alibaba cloud
https://www.5thir.com/dynaevent.aspx?eid=a90fcdd75b8a4a6397b6fa774caee88M#start
3. Creat your Terraform cloud account
4. Create your Git Hub Account
He has completed M.E (Network and Internet Engineering) from Karunya University, Coimbatore in the year 2009 and B.Tech (I.T) from St.Xavier's Catholic College of Engineering affiliated to Anna University in the year 2005. He has around 14 Years of Software experience, where he worked with various .net technologies Has 10 years of teaching experience as Assistant Professor at St.Xavier's Catholic College of Engineering. Presently he is work as Cloud/Software Consultant in GM Software,Nagercoil,India. He is an MVP(Most Valuable Professional) in Alibaba Cloud with more 75+ Clouder certification and four Associate Certification in o Cloud Computing o Cloud Security o Enterprise Database Cloud Transformation Architect o Cloud-Native He got "DevOps Engineer Certification" From Alibaba Cloud He is Oracle Academy Certified Trainer for Oracle Certification Courses. He is active Writer of Alibaba Cloud in Quora and Reddit He is an active writer in linkedin and published 4 articles in linkedin Linkedin Profile-https://www.linkedin.com/in/gavaskar-s-5b81325a/
Special Message From GAVASKAR S
Our Integrated Approach To Open Learning, Elevated Branding and Hiring
Benefits Of Joining Our Events and Sessions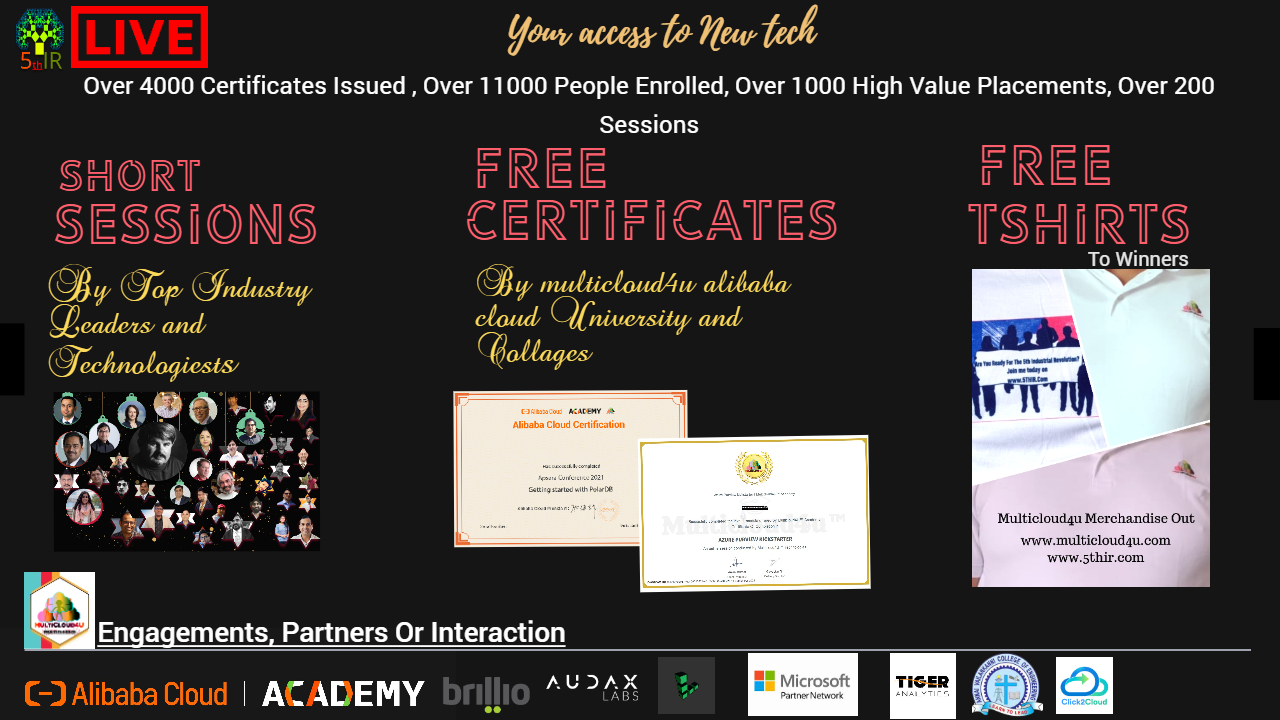 ;
Upcoming Events