What will you learn from this master class?
Session Detail
Who is the Speaker?
Arshad Ali , Principal Architect From Microsoft, Redmond.
What will be covered?
1. Good for starters as well as for experts.
2. Covers tips and tricks on how to, build analytics solutions from scratch.
3. Efficiently use Azure Synapse along with tools like Spark, data bricks and polybase.
4. This will be a kick start for people who know very basics of the data warehouse, big data and SQL and either wants to start fresh with Azure Synapse or want to know more around cloud-based data warehouse offering such as Synapse.
5. To your surprise, Synapse combines the capability of bigdata with OLTP on a highly distributed containerized platform and is a must to learn technology if you are in a data-driven world.
6.Understand why the behaviour and build is completely differnet than normal OLTP system such as sql server and why some quesries like while and cursor run very slow?

Know more about Arshad Ali
Click here to Jump to Arshad's Profile
CERTIFICATION -
Multicloud4u LLC USA will certify the participants with Level 1 certification after the session. Certificates can be claimed by clicking the garduation icon in green on this page or by link below.
Feel free to invite your friends or colleagues as well to attend the session. Claim Certificate by Clicking here
Seasoned technical architect with deep experience in architecting and delivering enterprise scale data warehousing, business intelligence, big data and advance analytics solutions for enterprise customers across globe. Engages with strategic customers for digital transformation and business prioritization processes, particularly focused on data platform modernization and data analytics, to enable them to better utilize their data platform assets, and drive new insights and scale from their investment in cloud solutions through a combination of batch or real-time data consumption & processing (Lambda or Kappa architecture), predictive analytics as well as intuitive visualizations that enables users to make smarter, faster decisions.

A technical thought-leader who manages and collaborates with multi-stakeholders ecosystem - customers, engineering, marketing and sales, consulting, partners etc.

Presented in several technical events both internally and externally. Has co-authored a book on big data analytics (Big Data Analytics with Microsoft HDInsight by Sams\Pearson) and has written 200+ technical and performance optimization technique articles on data platform and analytics which have been published on several sites.

Our Integrated Approach To Open Learning, Elevated Branding and Hiring
Benefits Of Joining Our Events and Sessions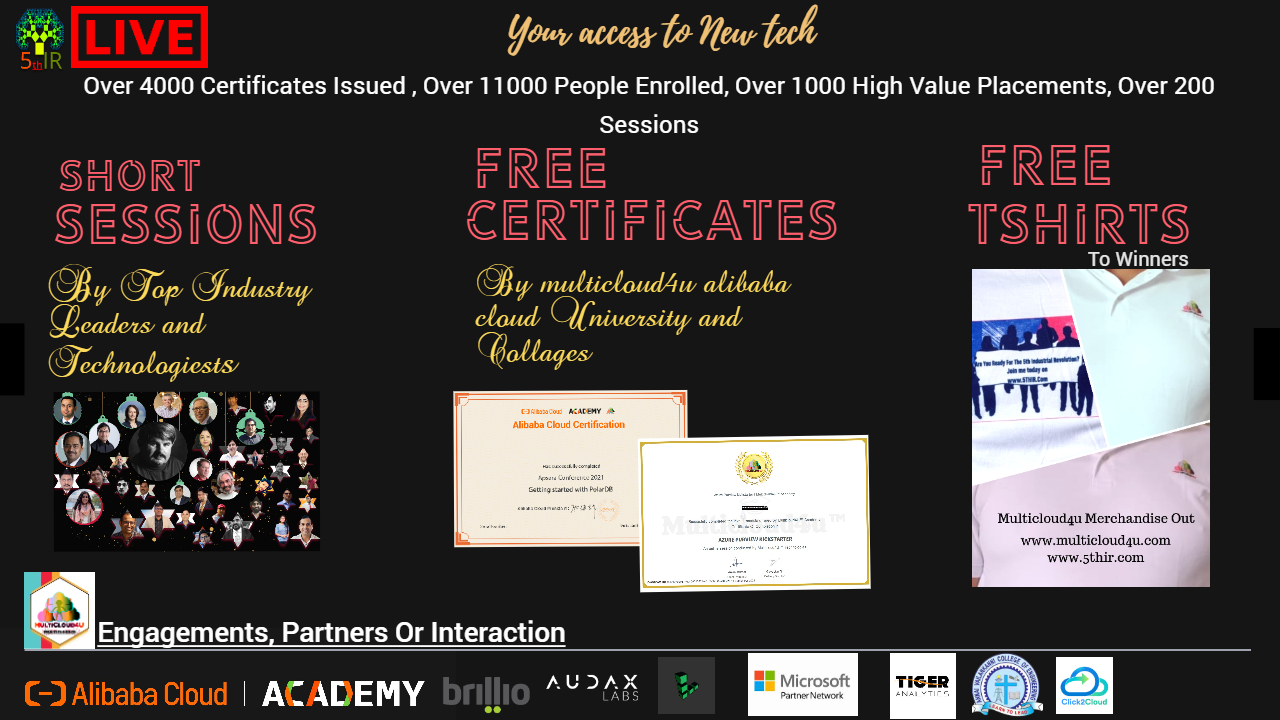 ;
Upcoming Events